On July 30, 2014, World Fuel Services Corporation (NYSE: INT) announced the completion of the acquisition of Stoneworth Financial client, Colt International, LLC, a Houston-based provider of business aviation contract fuel and trip support services, in a transaction valued at more than $63 MM in total consideration.
In 2010, Stoneworth began advising Colt on corporate development. Colt was approached on a frequent basis with acquisition offers and investment opportunities; they wanted to make sure that bankable offers and strategic investments both were given proper consideration. Already strong in its niche, Colt sought to become stronger through a mix of organic investment and targeted acquisitions.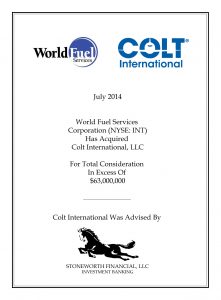 Over the ensuing four years, Stoneworth Financial assisted the company in the pursuit of investments and the consideration of acquisition approaches, culminating in the sale to World Fuel Services Corporation.  During the period, the company added significant franchise value, clarified its value proposition and strengthened its competitive advantage.
Stoneworth Financial believes this transaction is representative of a positive business climate for strategic middle market M&A.  Stoneworth Financial anticipates an upswing in M&A activity in the months ahead as sellers consider exit options.