Stoneworth assisted in the analysis of a potential transaction, introduced multiple senior lenders, and worked through preliminary underwriting and negotiated with the parent company owners, including court-appointed stewards.
As the likely outcome turned to a bankruptcy auction in the Fall of 2013, Stoneworth assisted the management in structuring and negotiating equity investment in addition to bank financing, and worked with the management-led investor group through the bankruptcy process. Our client was awarded stalking horse status and prevailed in the court-run auction over a competitor who likely would have eliminated many company positions.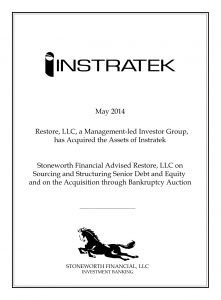 Working with Amegy Bank and investors, Stoneworth Financial helped complete the transaction, ultimately keeping the company's doors open and its employees working.